L'eau est une ressource essentielle pour le dynamisme de l'activité économique comme pour la vie humaine. Qu'il s'agisse de notre alimentation, des vêtements que nous portons, de l'électricité dans nos maisons ou des puces qui équipent nos téléphones et ordinateurs, tout est tributaire de l'accès à des approvisionnements en eau de qualité. Malgré des technologies prometteuses de récupération, de conservation et de comptage, de moins en moins d'eau est disponible là où les entreprises et les consommateurs en ont besoin - et quand ils en ont besoin. C'est ce qu'on appelle le stress hydrique.
Dans de grandes régions du monde, la situation ne fera qu'empirer. Alors que la population mondiale ne cesse d'augmenter, les ressources en eau disponibles devraient se réduire. Avec le changement climatique et la hausse des températures, les régions tropicales arides risquent d'être confrontées à un déficit hydrique du fait du renforcement de l'évaporation naturelle et des variations des cycles de précipitations. En parallèle, la population mondiale devrait augmenter de 750 millions d'habitants au cours de la prochaine décennie.
Les pénuries et perturbations de l'alimentation en eau représentent une menace certaine pour les entreprises. Les pénuries ont débouché sur une hausse des prix de l'eau en Californie, un rationnement en Afrique du Sud, et des appels au boycott de marques internationales de boissons en bouteille, accusées de « voler » de l'eau aux collectivités et aux réseaux fluviaux. Pepsi (Kerala, Inde), Nestlé (Etats-Unis) et Constellation Brands (Mexicali, Mexique) ont dû repenser leur stratégie de sécurisation de l'approvisionnement en eau après s'être heurtés à des réactions hostiles de la part des consommateurs et des autorités locales.
Dans un avenir proche, les entreprises pourraient bien se retrouver avec des actifs dévalorisés en raison du stress hydrique si elles ne sont pas capables d'en faire plus avec beaucoup moins. L'avantage concurrentiel lié aux ressources en eau va prendre une importance croissante. Les entreprises agricoles présentes dans les régions subtropicales vont devoir commencer à se tourner vers le nord et les zones plus tempérées.
Jusqu'ici, le stress hydrique résulte largement d'une croissance artificielle de la consommation supérieure au rythme naturel de reconstitution des ressources en eau. Les dérives humaines et les pollutions industrielles ont réduit l'accès à une eau potable salubre. Il existe bien sûr des technologies émergentes permettant un assainissement et une gestion efficace des ressources en eau, mais à ce stade, il est important que les investisseurs appréhendent les risques actuellement encourus et les différentes options pour les réduire.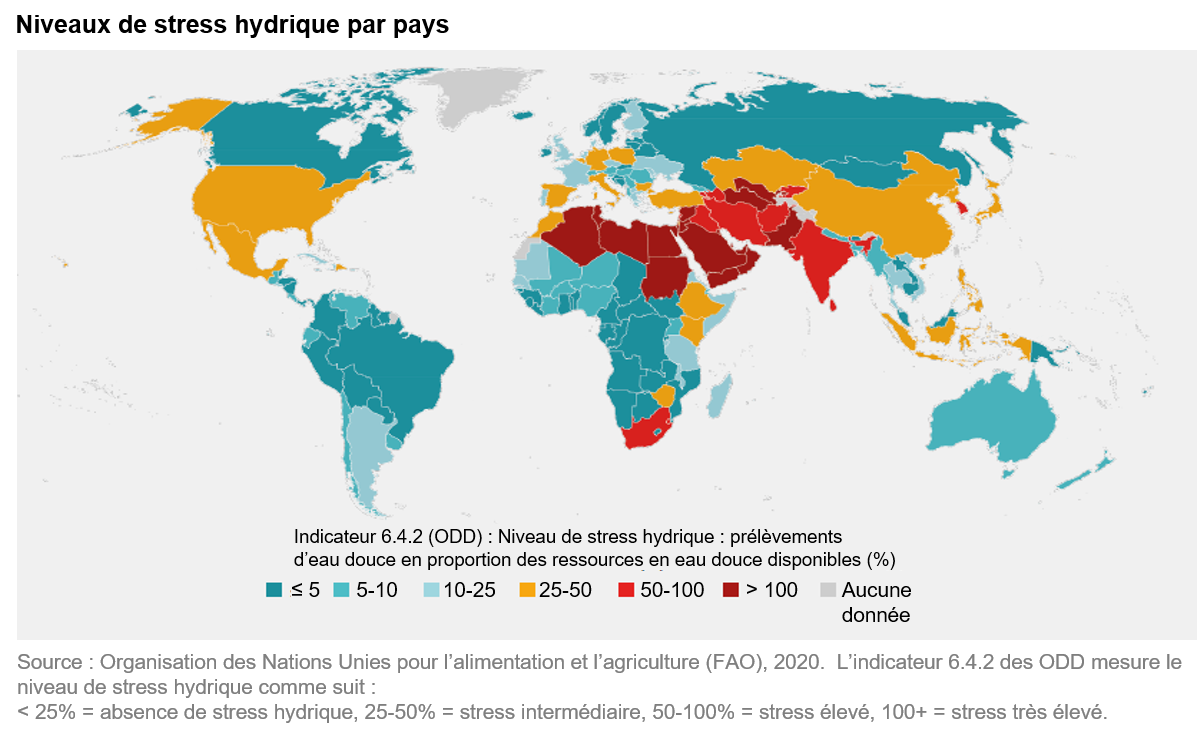 Dans cette note, j'ai établi un lien entre les facteurs de « stress hydrique » et les signaux d'alerte, au niveau des entreprises, qui méritent d'être examinés de près. La visibilité est limitée en matière de stress hydrique, les entreprises n'étant pas obligées de communiquer sur leur consommation ou leur exposition au stress à l'échelle de leurs activités ou de leurs chaînes d'approvisionnement. Il est néanmoins possible d'appréhender les risques au niveau des entreprises sans se ruiner en faisant appel à un consultant.
De nombreuses entreprises cherchent à réduire leur consommation d'eau avant que ce problème ne devienne chronique. Les investisseurs doivent être conscients des risques économiques engendrés par le stress hydrique. En réduisant leur implantation dans les zones soumises à ce stress, les entreprises contribueront non seulement à améliorer le bien-être de nombreuses populations locales et ainsi leur image auprès des consommateurs, mais aussi à soutenir leur croissance future et leur positionnement concurrentiel. C'est aussi simple que cela.
Eau
Au niveau mondial, 97% de l'eau est salée et 2% gelée. Le pour cent restant permet la vie sur Terre. Parmi les sources d'eau douce, on trouve les eaux de surface, telles que les lacs et les rivières, les eaux souterraines stockées dans les aquifères, et les précipitations/eaux de pluie. Les aquifères sont des couches souterraines de graviers ou de roches perméables contenant de l'eau. Ces systèmes sont interdépendants. Regroupés dans une zone donnée, ils forment ce que l'on appelle des bassins hydrographiques.
L'eau peut varier par sa température, sa salinité et sa localisation (en surface, souterraine ou dans l'atmosphère). Le changement climatique peut affecter tous ces paramètres. Ainsi, l'évolution des températures a des répercussions visibles sur les mouvements des réserves halieutiques qui ont moins d'entraves à la circulation que les populations humaines. Avec le réchauffement, l'eau retient moins d'oxygène et la faune marine se tourne vers des eaux plus froides en direction des pôles. Les pêcheurs norvégiens et russes ont vu leurs prises évoluer en mer de Barents, car plusieurs espèces de grande taille ont migré vers le nord1.
Stress hydrique par secteur et par zone géographique
L'eau est majoritairement utilisée pour la production de denrées alimentaires. L'agriculture représente ainsi 70% de la consommation mondiale d'eau douce. L'industrie se classe deuxième avec 19%, suivie par les municipalités (11%). Le tableau ci-dessous montre la forte corrélation existant entre les prélèvements d'eau et la population.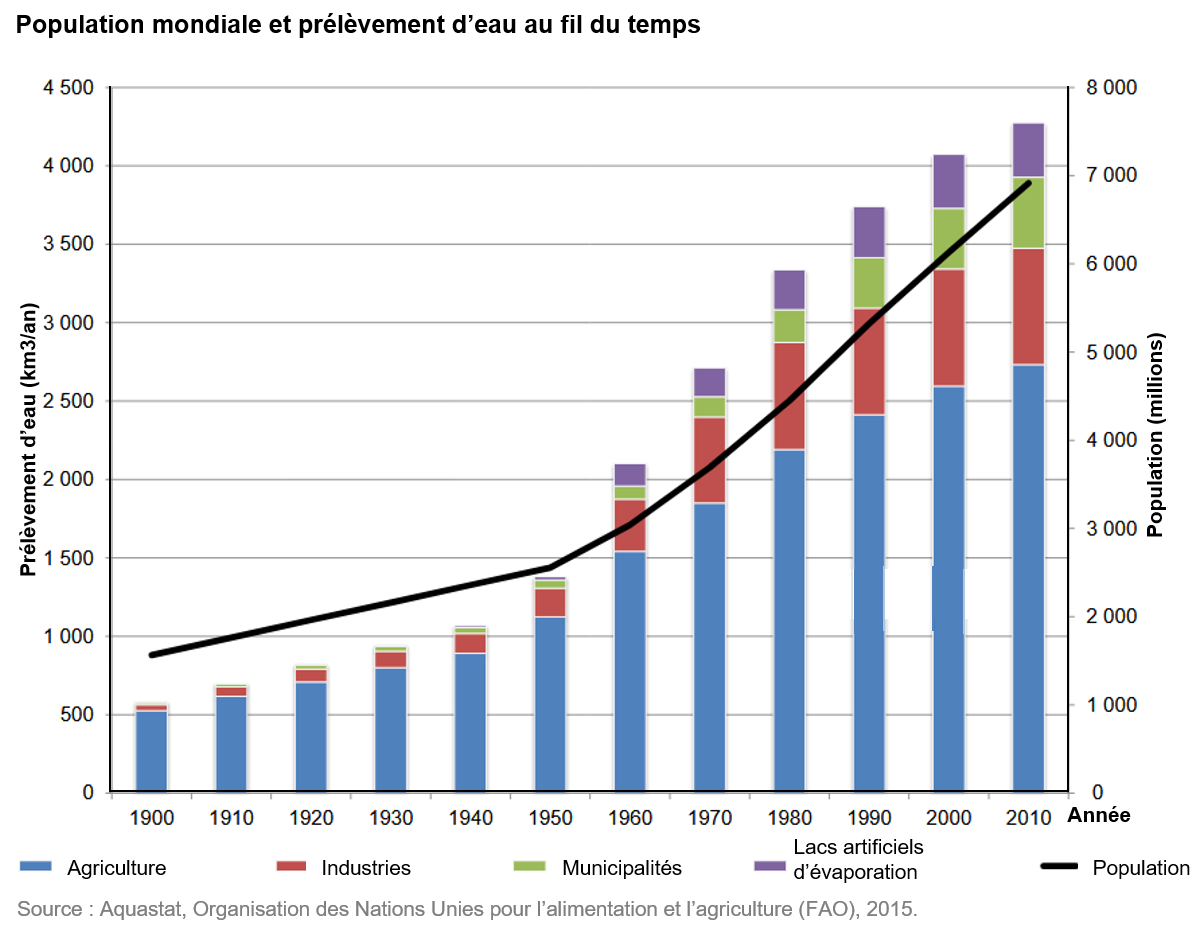 Le stress hydrique est défini comme la proportion des prélèvements d'eau douce par rapport aux ressources en eau disponibles. Lorsque ce niveau atteint 40%, le stress hydrique est considéré comme élevé. Le stress hydrique est inégalement réparti sur la planète. Il est plus marqué dans les régions arides fortement peuplées autour des zones subtropicales couvrant certains pans de l'Afrique du Nord, de l'Inde, du nord de la Chine, du sud des Etats-Unis et du Mexique. Selon les estimations de la FAO, le stress hydrique mondial (utilisation) était de 13% seulement en 2018. Cependant, au niveau national, 40 des 180 pays étudiés sont en situation de stress, et 15 atteignent des niveaux supérieurs à 100%. Comme le montre le tableau ci-dessous, la situation peut sensiblement varier d'une région à l'autre au sein d'un même pays, soulignant l'importance des facteurs « bottom-up ».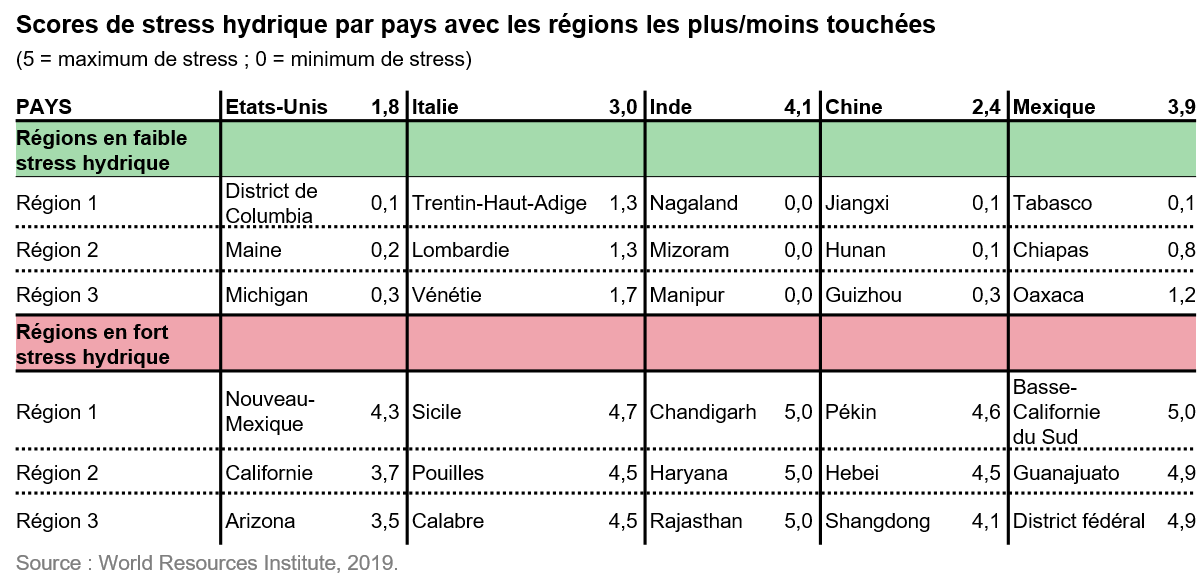 Aux Etats-Unis, il pourrait sembler surprenant que l'Arizona, dont le score est de 3,5, ait été choisi pour accueillir une nouvelle usine du géant des semi-conducteurs TSMC. La fabrication de semi-conducteurs consomme, en effet, de très grandes quantités d'eau. Pour attirer TSMC, les autorités locales de Phoenix ont notamment proposé d'investir 144 millions de dollars dans les infrastructures hydrauliques et de traitement des eaux usées. Un investissement efficace est susceptible d'atténuer considérablement le stress hydrique, mais peut être onéreux et pas toujours réalisable.
L'exposition des entreprises
Le premier élément à surveiller est la consommation. Les entreprises exerçant des activités à forte intensité en eau (volume consommé par million de dollars de chiffre d'affaires) seront confrontées aux pires difficultés en cas de rationnement de l'eau ou d'inflation des prix. La nature des activités d'une entreprise dicte la quantité d'eau nécessaire et la logique est la même au niveau des secteurs. L'énergie et les services aux collectivités se détachent clairement à la fois en termes absolus et d'intensité. Notons à cet égard que la production d'énergie thermoélectrique a consommé à elle seule 41% de l'eau prélevée aux Etats-Unis en 20152.


Le deuxième facteur à prendre en compte est l'implantation géographique. Pour illustrer ce point à l'aide d'un panel d'entreprises globalement similaires, j'ai converti les scores de stress hydrique des différentes sociétés du secteur des services aux collectivités en moyennes par pays. Le graphique ci-dessous montre le score moyen pour chaque pays avec plus de deux entreprises disponibles. La répartition est significative. J'ai utilisé les scores de stress hydrique des entreprises de l'indice MSCI ESG, qui sont basés sur ceux, relativement larges, calculés par le World Resources Institute, ONG environnementale internationale. Ces données constituent de précieux indicateurs. Les scores mesurent l'exposition des opérations, l'exposition géographique des activités et les initiatives de la direction en faveur de la gestion des risques liés à l'eau. Il est intéressant de noter que les sociétés thaïlandaises de services aux collectivités affichent des scores relativement faibles alors que le pays dans son ensemble est bien approvisionné. Seulement, une analyse bottom-up intègre toujours des facteurs propres aux activités et à la direction. Ces entreprises tendent ainsi à réaliser d'assez mauvais scores en raison de l'intensité de leurs activités et des efforts moins efficaces déployés pour une utilisation rationnelle de l'eau.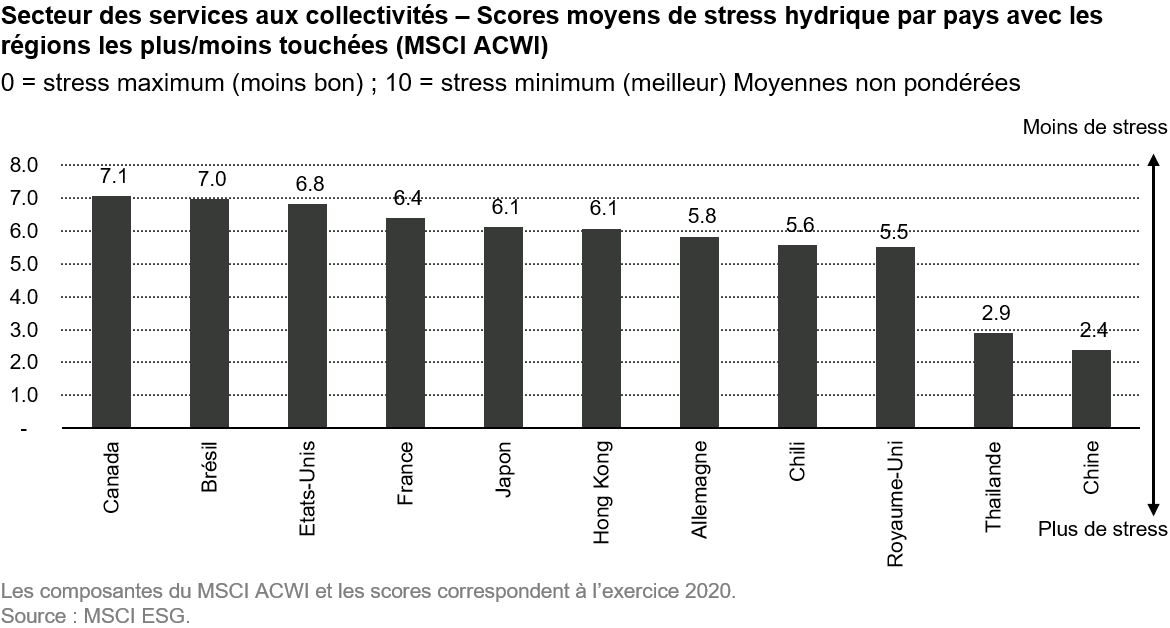 Certaines entreprises confrontées au stress hydrique ont dû réagir. Les brasseurs multinationaux ont ainsi réalisé de remarquables progrès dans ce domaine. AB InBev, premier brasseur mondial, a réduit sa consommation d'eau par hectolitre produit à l'échelle planétaire de 35% en 10 ans, et Heineken de 33% en 12 ans.
L'une des principales difficultés pour les investisseurs est d'évaluer l'empreinte hydrique totale d'une entreprise et de sa chaîne d'approvisionnement. Obliger les entreprises à fournir des informations sur leur consommation d'eau et leurs expositions régionales serait à cet égard fort utile. L'ampleur du problème a été mise en évidence dans un récent rapport de McKinsey3 and Co., qui cartographiait l'empreinte d'un distributeur. Le cabinet a calculé que le distributeur lui-même ne représentait que 1% environ de l'eau utilisée dans le cycle allant de la production à la vente. Ses fournisseurs représentaient quant à eux 10% à 40% de la consommation, mais leurs sous-traitants 60% à 90%.
La réduction de son empreinte hydrique peut présenter plusieurs avantages pour une entreprise : elle peut lui permettre de gagner des parts de marché au détriment d'acteurs moins efficients, de réduire ses coûts et même d'améliorer sa réputation. Une entreprise peut aussi réduire sa sensibilité à l'eau par le biais de ses achats en faisant bénéficier ses fournisseurs de petite et moyenne taille de son savoir-faire et de son accompagnement commercial.
Conclusion
Pour toutes ces raisons, les entreprises doivent s'adapter et reconnaître la valeur de leur eau avant que le marché ne l'intègre entièrement. Les investisseurs peuvent contribuer à pousser les dirigeants sur la bonne voie et à attirer l'attention sur cet élément vital de leur activité. Le changement pourrait s'accélérer lorsque les entreprises seront tenues de fournir des informations sur l'eau dans leur rapport annuel, ce qui n'est actuellement pas le cas. A titre de bonnes pratiques, il pourrait ainsi leur être demandé de communiquer, par exemple, des informations sur les prélèvements d'eau annuels et les taux de consommation, par branche d'activité et pour l'ensemble de l'entité, ainsi que des données sur l'exposition à l'eau par sous-bassin pour l'entreprise et sa chaîne d'approvisionnement. Ce serait un bon point de départ.
De nombreux acteurs de l'Occident tempéré considèrent que des approvisionnements en eau durables et une bonne gestion industrielle de cette ressource vitale vont de soi dans le monde entier, ce qui est une erreur. Le problème et la politique de l'eau devraient gagner en visibilité et de ce fait, les dirigeants pourront de moins en moins ignorer ces enjeux.
Il faut que les équipes dirigeantes anticipent ces risques. Leur capacité à faire évoluer les processus pour en faire plus avec moins d'eau sera cruciale pour soutenir les résultats, les populations locales et la valeur pour les investisseurs.
1 Le réchauffement des eaux fait migrer les populations de poissons vers le nord de l'Arctique https://www.climate.gov/news-features/featured-images/warming-waters-shift-fish-communities-northward-arctic
2 United States Geological Survey (USGS)
3 https://www.mckinsey.com/~/media/mckinsey/dotcom/client_service/Sustainability/PDFs/Report_Large_Water_Users.aspx
Sudhir Roc-Sennett, Head of Thought Leadership & ESG
Pour accéder au site, cliquez ICI.